Link your garden
Ensuring hedgehogs can pass freely through your garden is one of the most important things you can do to help them.
Find out more about our new Hedgehog Friendly Fencing campaign.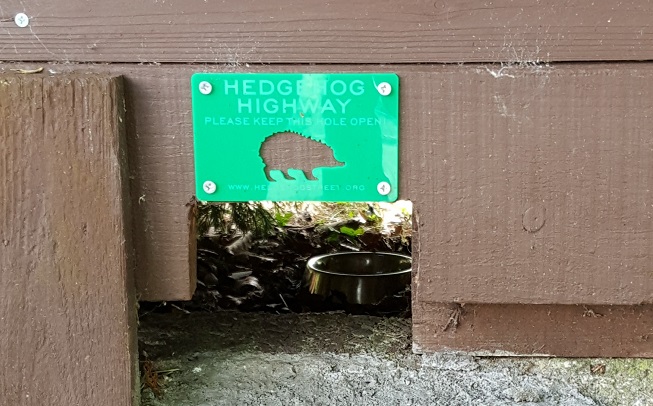 Why do hedgehogs need holes in fences?
Hedgehogs travel around one mile every night through our parks and gardens in their quest to find enough food and a mate. If you have an enclosed garden you might be getting in the way of their plans.
One of the main reasons hedgehogs are struggling in Britain is because our fences and walls are becoming more and more secure, reducing the amount of land available to them.
We can make their life a little easier by removing the barriers within our control – for example, by making holes in or under our garden fences and walls for them to pass through.
DIY 'Hedgehog Highways'
13cm by 13cm square is sufficient for any hedgehog to pass through. This will be too small for nearly all pets.
Remove a brick from the bottom of the wall.
Cut a small hole in your fence if there are no gaps.
Dig a channel underneath your wall, fence or gate.
N.B. Ensure you are careful with tools and get the help of an adult if needed.
If you are feeling particularly ambitious then the ideal option would be to swap your walls and fences for hedges. This would provide shelter, food and a route into an out of your garden, not to mention the benefits it would bring to other wildlife such as birds and bees.
Label your Hedgehog Highway
These snazzy labels are lazer cut from recyled plastic and can be pinned above your hedgehog hole to ensure it is not blocked by anyone accidentally.
Profits will support our ongoing conservation work.
Hedgehog friendly fencing solutions
Many companies offer fencing with hedgehog highways already installed, like the ones pictured below. See our full list of companies offering these options HERE.
Find out more about our Hedgehog Friendly Fencing campaign encouraging more companies to offer these options HERE.
Take action now!
1) Pledge to make a hole in your fence or wall
2) Once you've made a hole, map it on the BIG Hedgehog Map
3) Become a Hedgehog Champion and make sure your neighbourhood has hedgehogs in the future
Find out more about our work with developers to ensure new-build sites are accessible for hedgehogs, and our partnership with fencing company Birkdale.